Annnd that's a wrap! My first ever game development-related talk is over -- what an experience! I was definitely nervous going into it and I was running out of steam towards the end of the talk, I need to remember to pace myself better next time, apologies if I was going too fast :). Hopefully this will be the first of many talks -- I had a great time putting this together, as much work as it was! Digital Dragons was also a fantastic conference! I had a fun time catching up with old colleagues, meeting friends and meeting a bunch of new people! Big thanks again to Kacper for inviting me to talk and for giving me the chance to visit Poland for the first time, it's a fantastic country.
Now that that's all done, time for me to relax and take some time to recharge and see some more of Krakow before I head fly back Friday for the last mad sprint to ship Star Wars - JEDI: Fallen Order this November!
As promised, you can find my full slides here (download the full 2GB .pptx and open with PowerPoint, won't work with Google Slides): https://drive.google.com/open?id=12FZakYdsmJCBYpp2OVBGCE0_4ayTjxZ-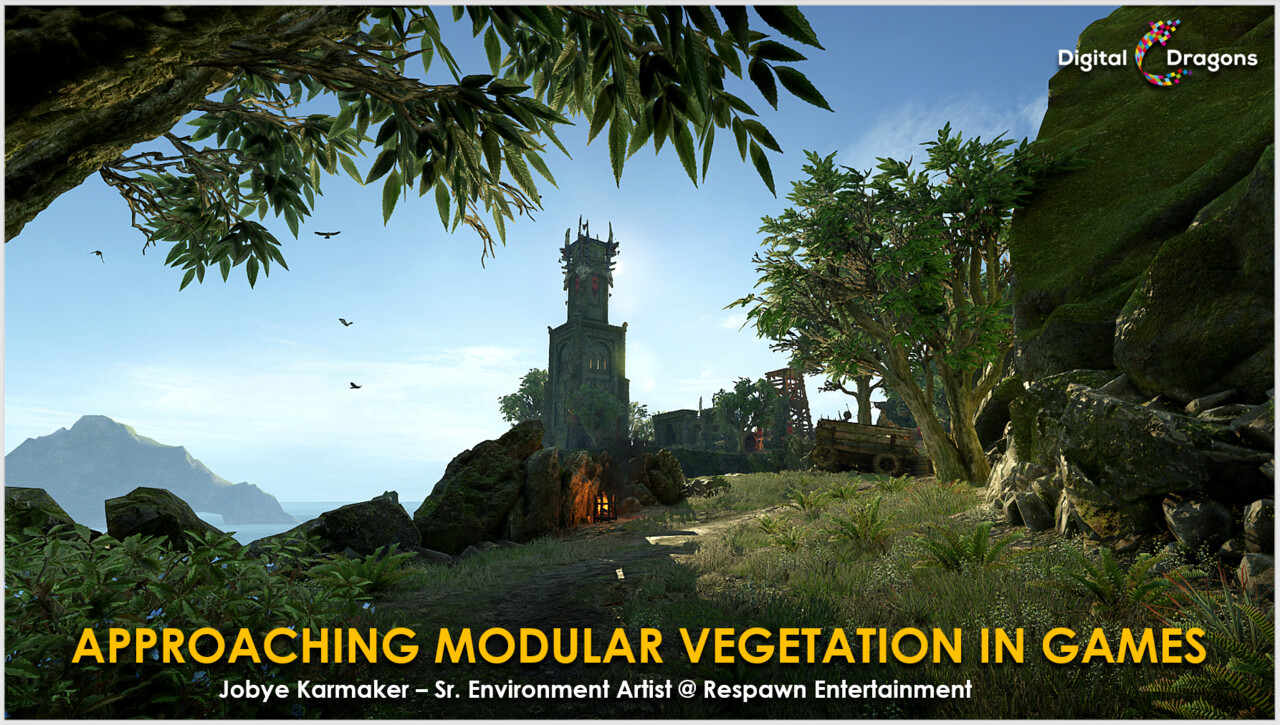 There should be a video posted up on YouTube by Digital Dragons eventually, I'll make sure to share it once it's up (bracing myself from all the gifs from friends :P). Until then, feel free to peruse the talk slides with my notes! If you have any questions or want more details, feel free to hit me up in the comments/e-mail/etc.!
Also, here are the other links I listed at the end of the talk of things I referenced during the talk:
Photoshop Blurred Edge-Padding Dilation script:
https://drive.google.com/file/d/1qJOkZew1exg9-T5JX7zcM5FbrTT1dq7k/view?usp=sharing
"Rendering the World of Far Cry 4" by Stephen McAuley:
https://www.gdcvault.com/play/1022234/Rendering-the-World-of-Far
"So…You Want to Sculpt Bark?" by Steven Oberman: 
https://drive.google.com/file/d/0B4y80hxi5ekwVlVGY0dTQWR6Wm8/view
Ivy Growth 3DS Max Script:
http://www.guruware.at/main/ivy/